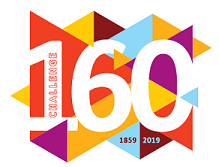 2019 is our 160th anniversary & WE challenge YOU!
On 19 November 2019 YMCA Wellington turns 160 years old. In celebration, we are running our Challenge 160 campaign and asking local businesses to donate £160. We are also getting individuals involved by asking them to fundraise £160, and schools and colleges can join in the fun too.
Businesses… You can make a real difference in your local community – all you have to do is write that cheque! £160 will make a real difference to a young person facing homelessness or you could get your staff involved and set yourself a fundraising target to raise £1600 in 2019.
Individuals… Can you or a friend organise a fundraising event, or take part in a challenge or go without coffee for a month? You have 160 days to raise £160… Ready, steady… Challenge 160!
Schools/Colleges… How about pledging to raise £160 as a school OR maybe you want to do a 'no uniform day' and raise £1600 as a school instead? Or perhaps each class could raise £160… the choice is yours.
Fundraising ideas to get you started:
- Wash the cars in your neighbourhood/work car park
- Hold a coffee morning, bake sale or bake off
- Put £1 in a jar for 160 days
- Take part in an organised challenge event… Tough Mudder, Wolf Run, Shrewsbury ½ Marathon etc etc
- Temporarily give up your favourite shop bought coffee or chocolate
- Organise a dress down day/no uniform day in your work place/school
Sign up today and say YES to Challenge 160!
To get involved or to find out more contact Mandie or Laura on enquiries@ymcawellington.co.uk or call us on 01952 400401